article
#bluegreengrey systems in Vellinge
Like many other towns, the population of Vellinge is continuously increasing, and all the functions has to expand to accommodate the growing needs. Traffic should run smoothly, energy and water should be distributed and at the same time people should have access to attractive green spaces.
A flexible and effective way to integrate sustainable stormwater management.

All these structures requires available space. The urban areas of Vellinge cannot expand further into the rural areas, therefore space is a limited resource.
The town also affected by less predictable events such as extreme weather. As we are facing climate change, we will need to adapt the urban environment to handle drought and extreme rain events in a more efficient way. Vellinge municipality has adopted a new approach to stormwater management. They have decided to look at water as an asset instead of a threat. Today they are integrating Blue Green Grey Systems in the towns street scape. By integrating Blue Green Grey Systems, plant beds can be transformed into retention basins and stormwater filters, and the subbase layer provide vital space for trees and act as flood control. Where hard surfaces previously dominated the area, we can now retain and treat large volumes of stormwater while supplying more space and good conditions for vegetation.
These are challenges that Kent Fridell and his colleagues at Edge are facing daily. Edge is a Malmö-based consultancy company that specializes in city infrastructure, landscape architecture, construction, water and environment. Kent also works part-time with innovation projects and courses concerning Blue Green Grey Systems at the Swedish University of Agricultural Sciences (SLU).


"If we were to build one facility for each function, it would simply be too expensive and take too much space."


Our complex urban environment requires flexible infrastructure that can handle multiple functions simultaneously. By zooming out and looking at the bigger picture, we see that most cities, and towns like Vellinge, are dominated by streetscape with impervious surfaces. When it rains, the runoff volumes from these areas will be large, and hard to handle.
This is a space with great potential for improvement. By redesigning these areas with Blue Green Grey Systems (BGGS) we create a greener, more liveable town and at the same time we are mitigating flood risks, thus easing the pressure on the municipal pipe system and on the water treatment facilities downstream.
Blue Green Grey Systems (BGGS) is a broad definition, covering a range of stormwater control measures in a city. The system that is used in Vellinge was originally developed in the Swedish innovation project "Klimatsäkrade systemlösningar för urbana ytor" financed by Vinnova. You can read more about the project at www.klimatsakradstad.se. With several innovation projects and full-scale project using this system in the streetscape, it has been developed further and the design is updated and customized to each site, thought the main principle is the same.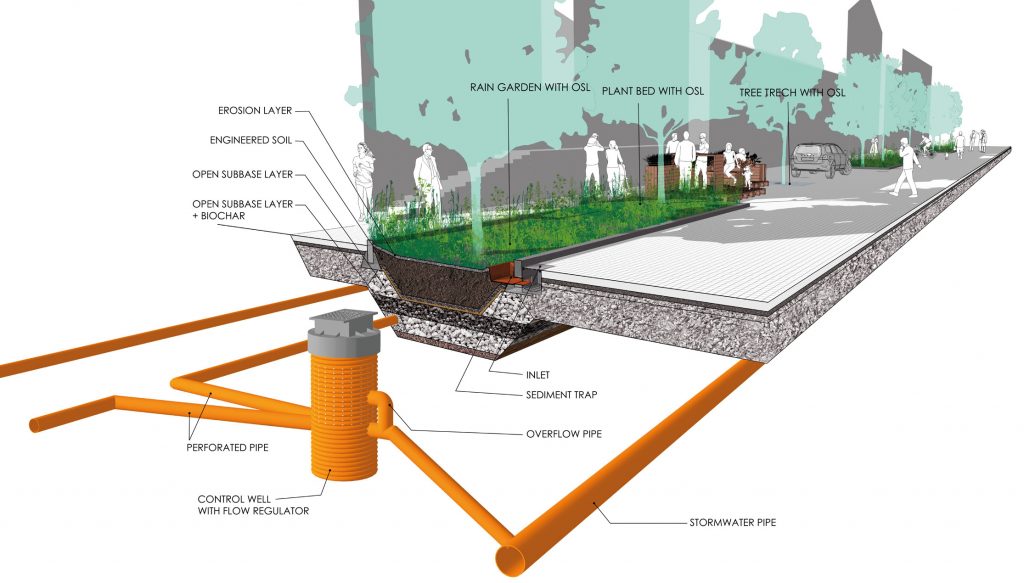 This kind of Blue Green Grey System consists of components that are not only visible on the surface but also hidden underneath. The possibility of working with both dimensions makes it very versatile and efficient. Hard surfaces such as roads, parking lots, walkways and cycle paths in Vellinge, as well as other towns, are traditionally reinforced with a subbase layer that consists of crushed rock with the fraction 0-90 mm. This gives a base with very low permeability, with limited room for air and water and where no plant roots are able to grow. In this project, the subbase is utilized in a new way.


"By using crushed rock without the fine fractions we will get a subbase with large pores that can be filled up with water and air."


Different fractions and mixtures are used, depending on the main purpose of the surface, traffic load, the need to retain water and the need for root zones.


The foundation of the system

The open subbase layer (OSL) has a capacity to store up to 400 L of water per cubic meter. Microorganisms and plant roots can thrive here, which results in more efficient water treatment, but also healthier vegetation on the streets of Vellinge. The roots that grow into the OSL will form a symbiosis with the microbes. In this symbiosis, trees and plants provide fungi and bacteria with sugar from the photosynthesis; in return they get nutrients and water from the microbes. Fungi and bacteria are important in water treatment as they break down pollutants. This is the natural way of treating water, as it happens in soils, streams and waterways.
In order to increase the function of the OSL as a rootzone medium and a stormwater biofilter we use biochar in the OSL in Vellinge. Biochar is made from garden waste, sludge or other organic residues, and microbes thrive on it. It improves the conditions for vegetation by retaining and providing nutrients and water. Apart from having a positive effect on the microbial life and vegetation, it improves water treatment and serves as a carbon sink in the town.


Adding pieces to the puzzle

Using the OSL as a foundation for the system, we then add on other components and facilities to the design. Depending on the use of the surface, on the stormwater quality demands for the specific site and on the desired design, we installed different components that treat the water while leading it down to the OSL. Anything from a permeable pavement or asphalt, a rain garden or a tree trench was installed. The capacity of the OSL is used mainly during heavy rain events, when volumes are greater than what the facilities on the surface can handle.
By linking the treatment facilities to the OSL, we increase the cost efficiency, as we can scale down on the structure of each single unit. For example, rain gardens and plant beds that were constructed on top of the OSL did not need separate drainage systems or pits. Rain gardens that are not constructed on top of the OSL need to be made considerably deeper.


Raingardens – A green way to retain, treat and use water

A rain garden is a key component in BGGS, no less than 50 raingardens were built in Vellinge during the project. It is a submerged plantation that functions as a retention basin and as a vegetation area, providing a green space in the city. When it rains, the water is collected from the surrounding hard surfaces and directed to the rain garden. About 150 mm of water can be retained on the surface. The water then slowly percolates down through the substrate while being treated in a natural way. To prevent flooding during extreme rain events, there is an overflow that directs excess water from the rain garden down to the OSL.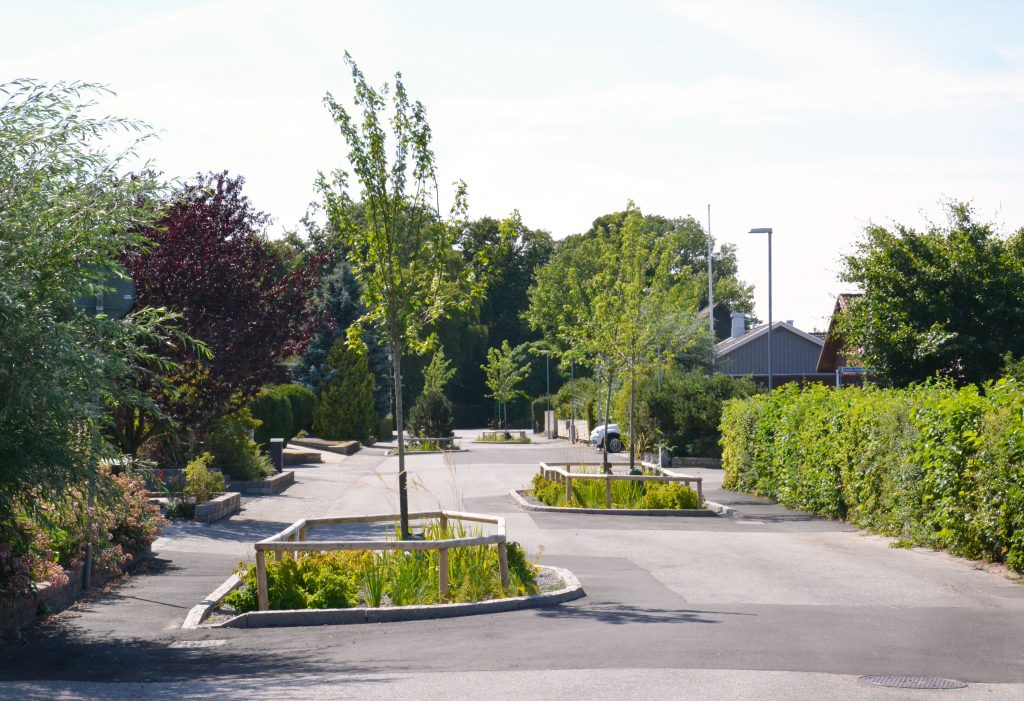 A rain garden is effective in treating water. The main principle is mechanical filtration and biodegradation. As much as 70-90 percent of pollutants are removed. Heavy metals such as lead, copper and zinc are often bound to particles and therefore
filtered in the topsoil layer. Nutrients and certain pollutants in the stormwater can be decomposed and/or absorbed by microorganisms, biochar and plants.


Plant beds and tree trenches – watered from underneath

By transporting stormwater in the OSL and not only on the street surface, makes the system more flexible, as we are not dependent on the design of the surface. Water from the streets of Vellinge are directed underground (through rain gardens, permeable surfaces, control wells, etc.) anywhere along the OSL. The water that has entered the OSL is led to places where it can be retained and used by the vegetation. For those areas we constructed special plant beds or tree trenches that access stormwater from underneath, instead of from the surface. By using flow-regulating valves we can choose how much of the water should be retained and how much (and how quickly) we are releasing in between the units and eventually into the municipal piping system.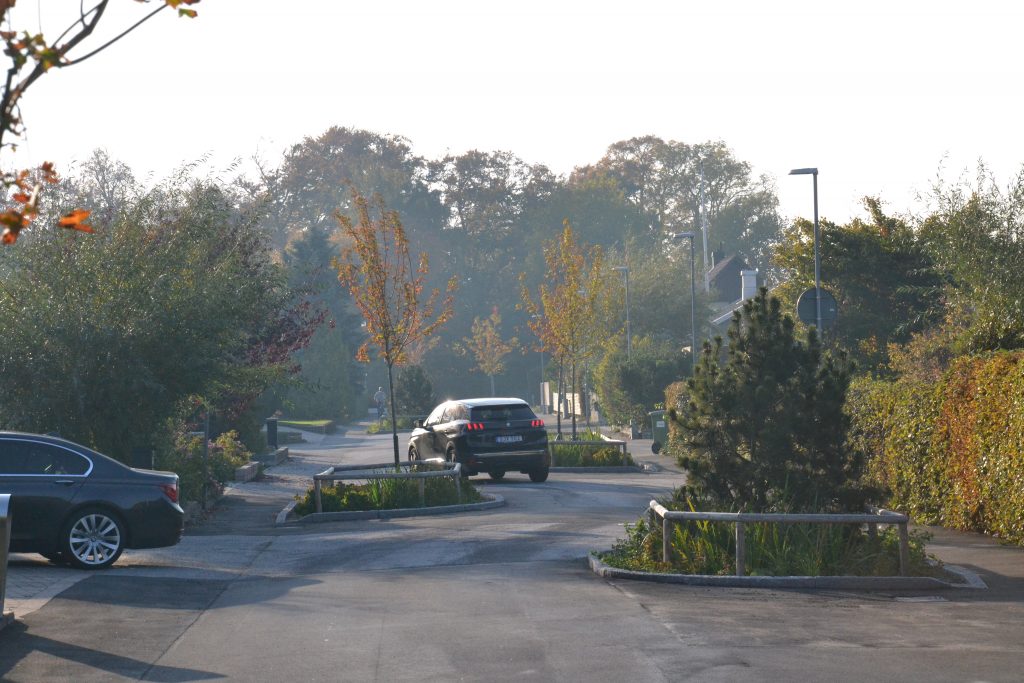 In Vellinge, part of the rooftop water is led to the OSL. It is a valuable water supply to plants and microbial life during periods with less rain. In the future there is also the possibility of using the OSL to treat and re-use grey water from households.


Vegetation

Healthy vegetation adds value to Vellinge by enhancing biodiversity, sequestrating carbon dioxide and moderating urban temperatures. It also increases property value. By giving trees the possibility to expand their root system into the OSL we will increase their vitality. There will also be fewer problems with roots breaking through the street surface, as there is more than enough space underground.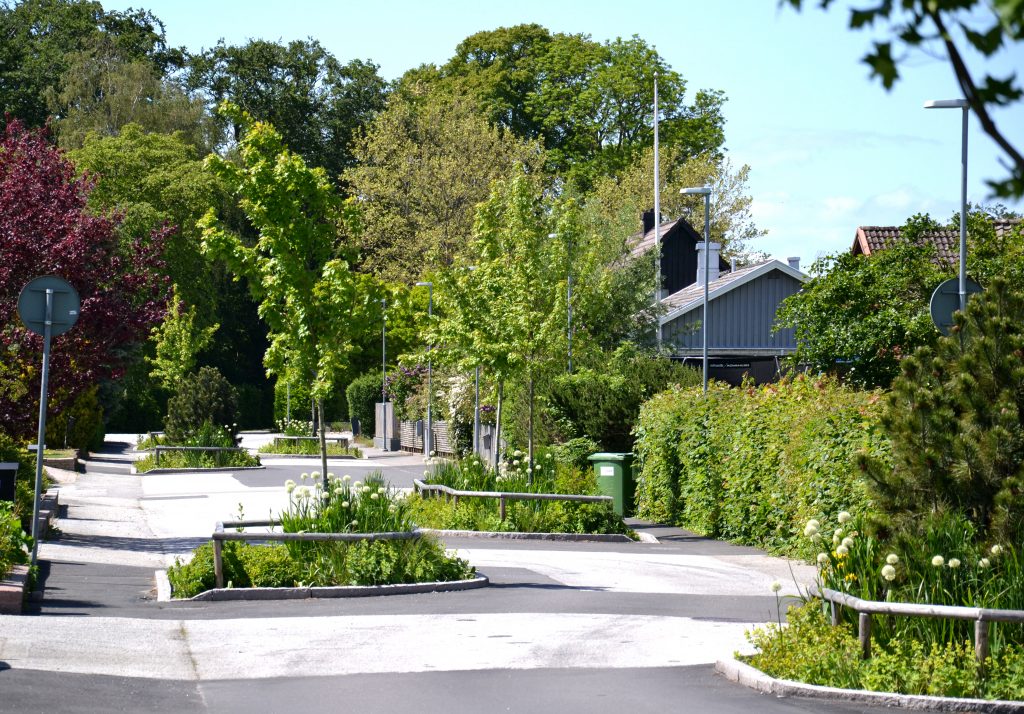 Finding suitable vegetation for rain gardens in the street scape is somewhat of a challenge. We wanted to create long-term, valuable vegetation that can withstand drought, flooding and salt from the streets. The plants that usually work are plants that grow naturally along the coasts or river banks in sandy, nutrient-poor conditions. Luckily for us, there are still beautiful plants and trees to choose from in these areas, even if we had to find species from other countries and continents to add richness and variation.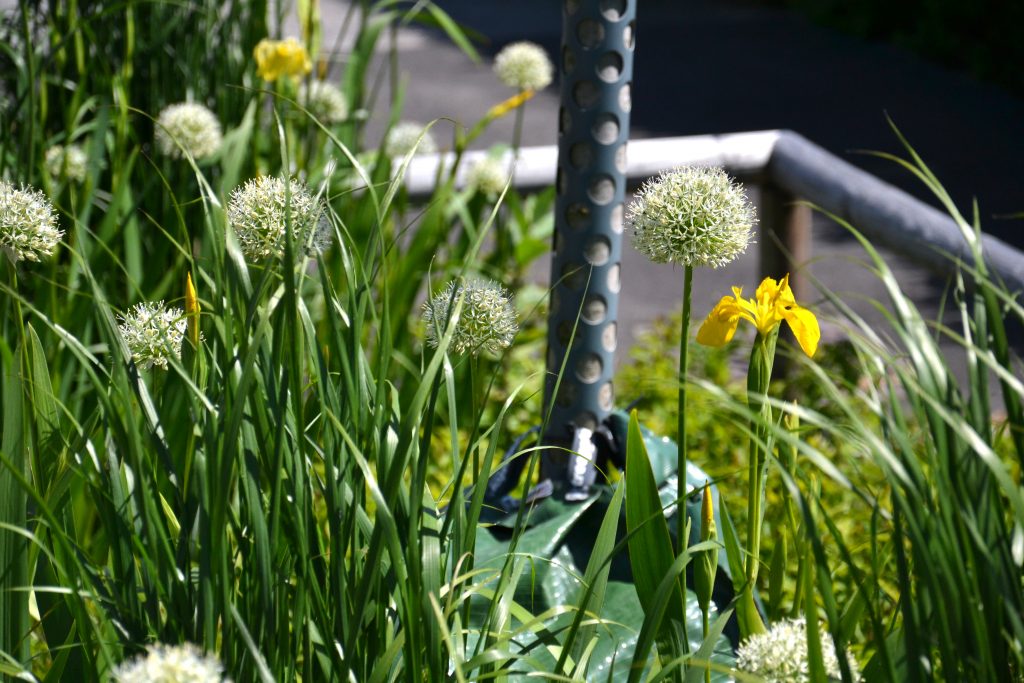 The capacity of the system

Rain gardens were dimensioned to handle 10-20 mm rain, which means that 80-95% of the total annual rainfall is treated, before it enters the OSL. The OSL is capable of handling much larger volumes of water. Volumes of a rain event with a return period of 30-40 years can be handled in the OSL in Vellinge.
These numbers correspond to a rain event of 50 to 60 mm, meaning that approximately 500 m³ stormwater can be delayed per ha. Runoff flows of 300 L/s·ha can be reduced down to 5 L/s·ha.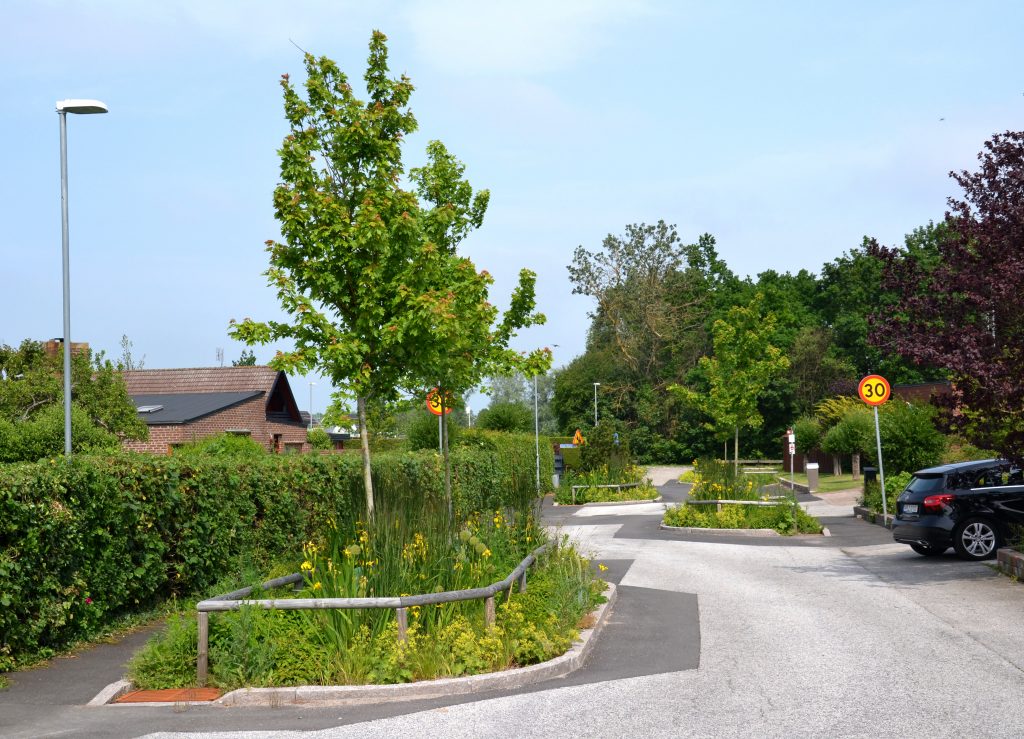 Interdisciplinary work – a challenge that pays off in the long run

It is easy to see the benefits of how this system accommodates several needs in a town like Vellinge. What always becomes a challenge is to get everyone involved and working together, across different areas of responsibility. This also includes coordinating budgets. In Vellinge the project involved people from traffic, property, landscape, urban planning and water management. The interdisciplinary thinking has been important in all phases, from planning and design to maintenance.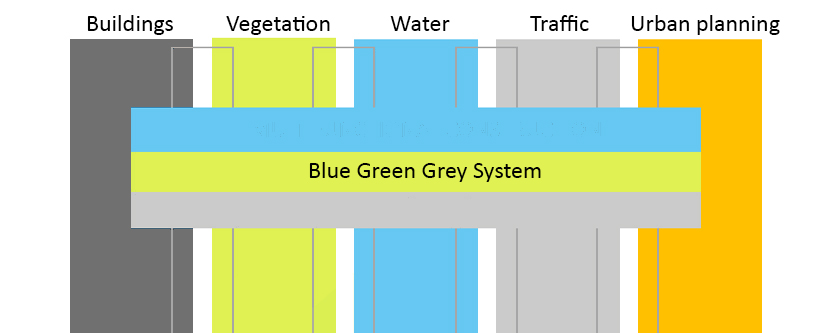 "The economic and environmental benefits made it worth the extra effort that was needed in the beginning to introduce the concept to all the involved departments."


There are many very important aspects when planning the design of rain garden. For example how to construct its inlet in order to prevent erosion. If this is made in a conscious way, we can prevent potential future problems from happening and the raingarden will treat water in an effective way. There is more and more experience gained in this area.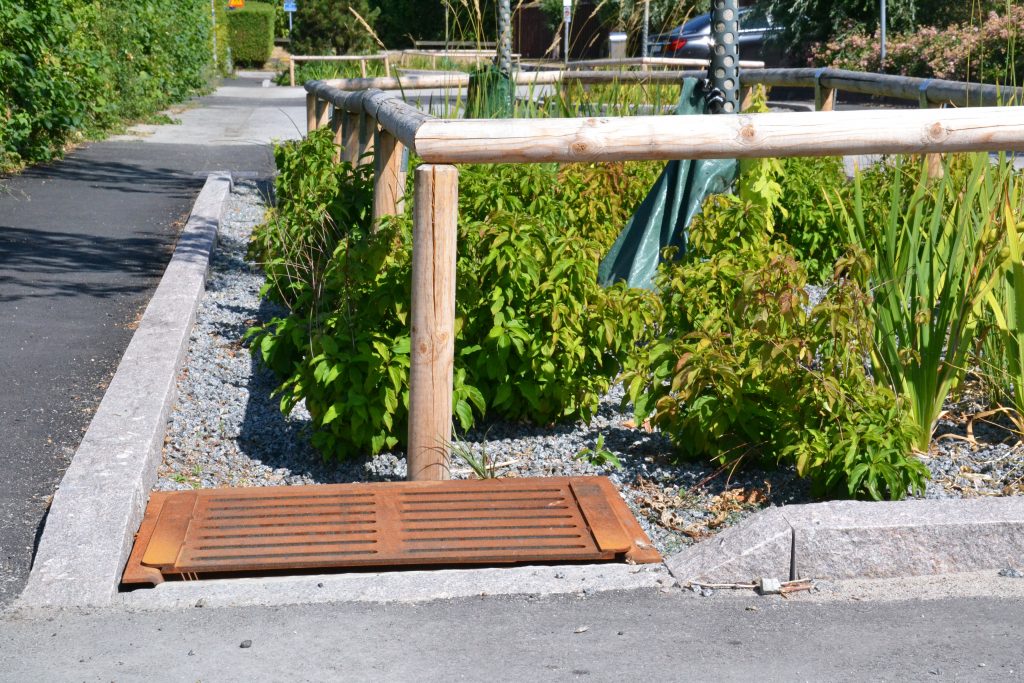 Maintenance

Blue-Green-Grey Systems requires maintenance in order to develop correctly, so that it can be used to its full potential. It is important to plan for, and not forget about! Lack of maintenance will most likely lead to flooding. In the end, it does not require much more work than what is required for controlling pits and looking after ordinary plantations. Edge provides a maintenance manual for the system.

Many are curious about Blue-Green-Grey Systems

With several innovation projects and ongoing full-scale projects, BGGS is under constant development. As the design is adjusted to each specific site, there are always new challenges to tackle, and improvements to be made. With this type of Blue-Green-Grey Systems Vellinge has taken a big step towards a better stormwater management and a more sustainable urban environment.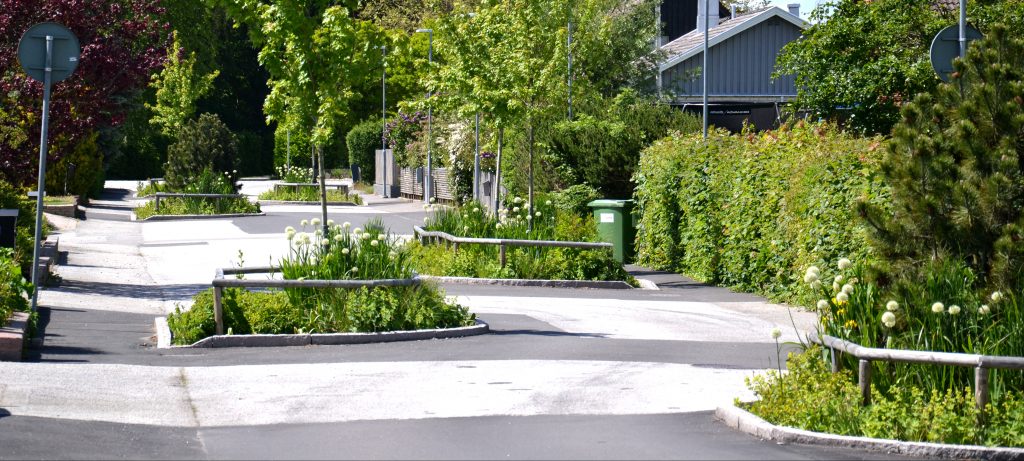 For more information visit www.edges.se or contact Kent Fridell.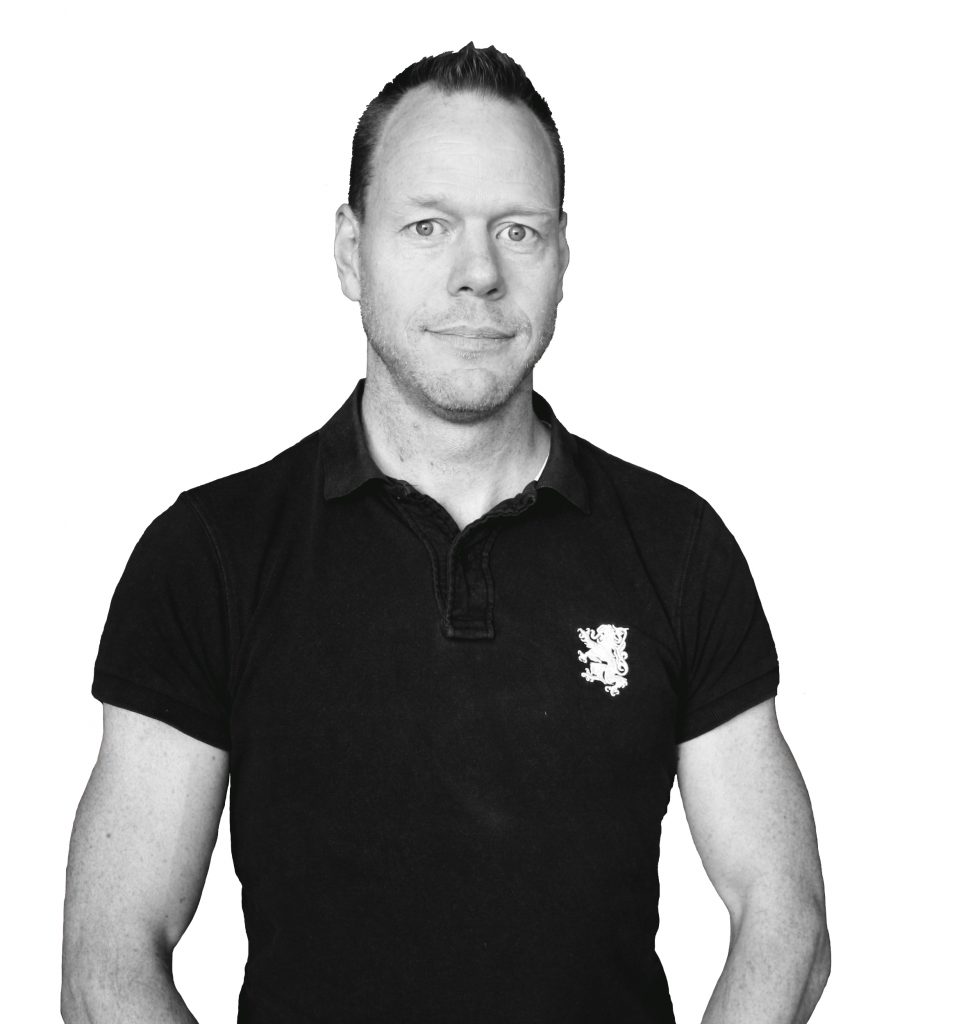 Kent Fridell
Specialist #bluegreengrey systems

0733-23 26 64

kent.fridell@edges.se